Sauce "Runa"
Eat well: strategy and campaign
We at Madcats love to eat good food. Especially the designers. Especially our design director Vic.

So when the Runa team asked for help us to re-launch the brand, we gladly agreed. Including foodie reasons, because we got an indulgence to eat more. Which in the context of the project is no longer an overeating process. We named it research.
The category of sauces in Ukraine is quite traditional. People pick up products from shelves out of habit without thinking about ingredients, environmental friendliness of packages and other spiritual matters.
There are two powerful competitors in the category, which have long been heavily advertised. Their commercials feature lots of products, food-porn and happy people with smiles so white they blind even through the monitor.

Also, Ukrainians eat a lot of ketchup. Studies suggest that the average Ukrainian family eats 116 grams at lunch. We don't know why you need this information; perhaps you can trump it up among your friends.
It seems that ketchup is pretty dull, and sauces are the next level of home cooking. Sauces are more varied because buckwheat with ketchup is always buckwheat with ketchup. And buckwheat with curry sauce and buckwheat with Satsebeli sauce are very different dishes.
Runa is far from the stereotypical image of an FMCG company. It is not an "evil corporation", but a charming Ukrainian producer: sauces are not made here but cooked.
Instead of a soulless R&D department, they have actual employees who meticulously fine-tune 50 variations of a single recipe. More than Madcats in design :-)
The owner and top management are Runa's primary power users. They eat their sauces for breakfast, lunch and dinner, and that's cool.
Now let us say a few words about the sauces themselves. First of all, they're delicious. Ingredients are good. You can safely eat them yourself and feed them to the kids. Third, you can see bits of vegetables right in the jar, which gives the food a nice texture and a special tanginess to the gums. Finally, Runa is only sold in glass jars and bottles, which means you won't be littering our tired planet.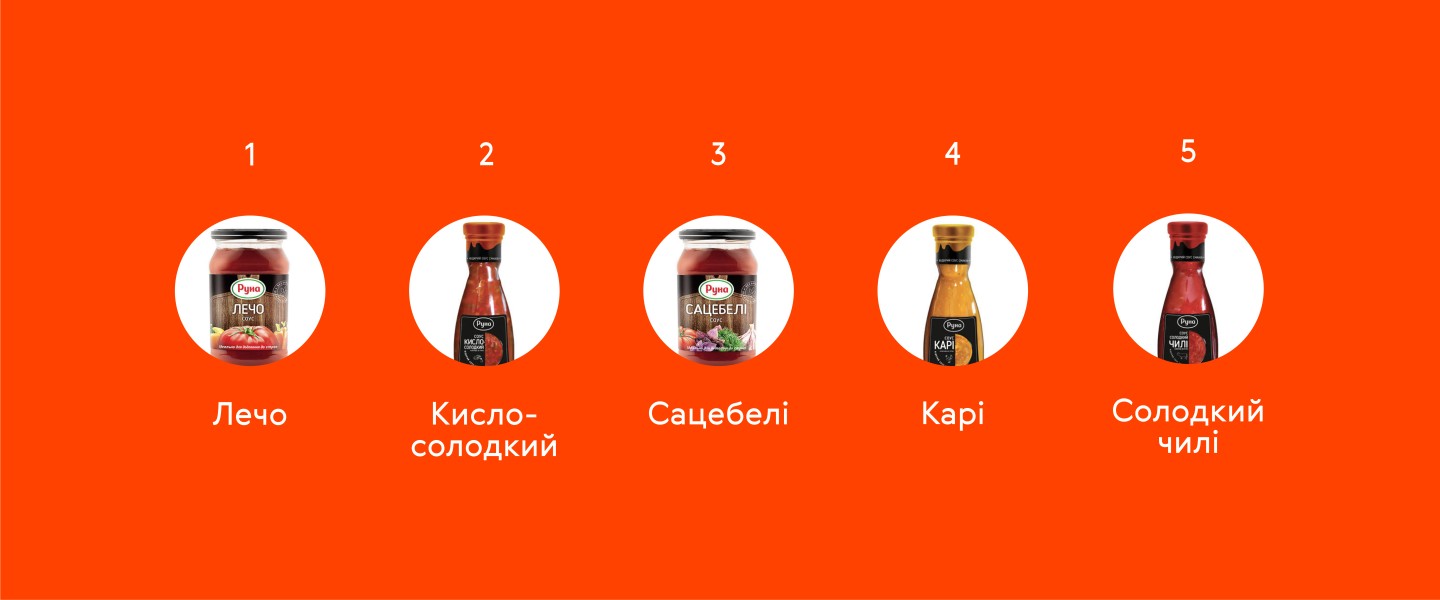 ТOP-5 Runa sauces by Madcats
So, when Runa came to us, they had a good product, a slogan "Open the sauce world," and ads in the genre of food-porn. But they didn't have the most important thing: a clear strategy.
"That's why we're here!" - we reported and set out to conduct research. Because a good product deserves a great strategy and great creative ads.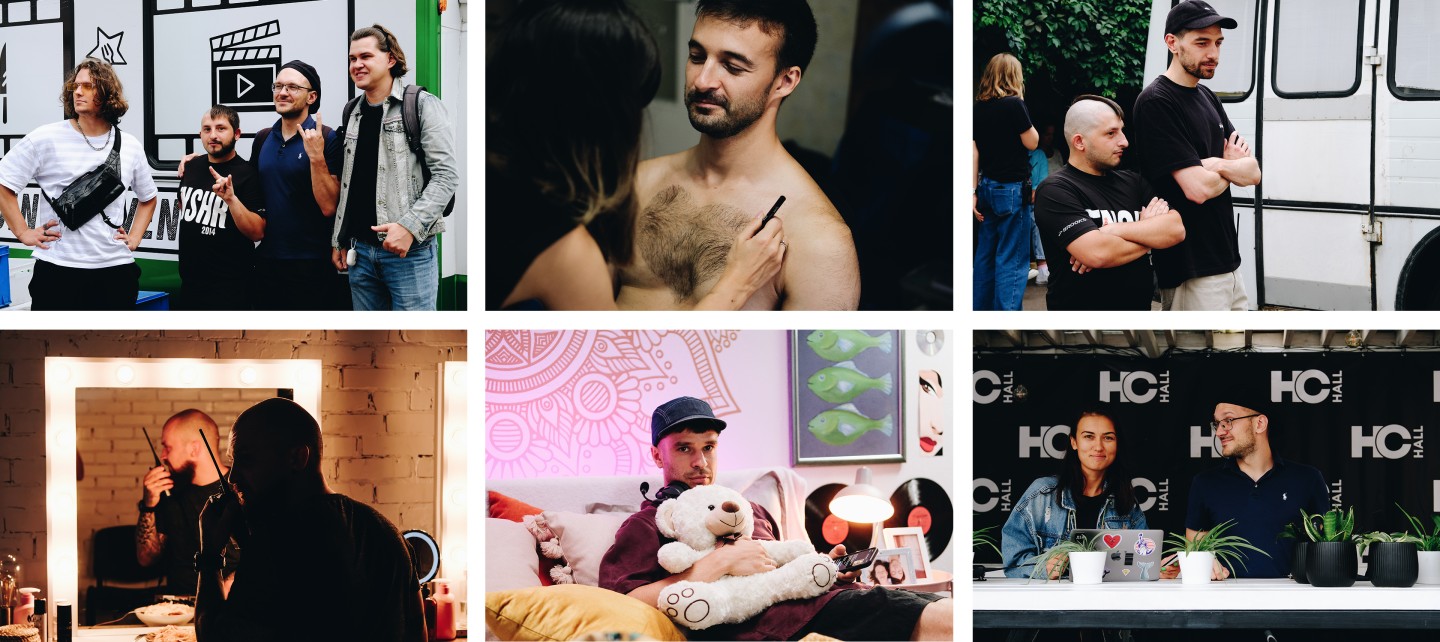 What conclusions we've drawn from our conversations with sauce fans:
1) We need a different label design. Hopefully, you'll see it on the shelves as early as January 2022.
2) The emphasis in the ads needs to shift from kitchen chef type of characters to food-lover kind of characters to make it clear that our sauces aren't just for cooking.
3) We were looking for the truth about sauces, and we found the real scourge of a generation. Life today is a constant rush. People are in a hurry all the time and seem to want to get everything done. No wonder meditation apps, retreat trips, and mindfulness are peaking today. In today's fast world, people are looking for ways to slow down. To be in the moment, not in the past or the future.
Food is an excellent way to slow down. We've begun to forget moms' warning, "Stop grabbing bits and pieces on the go. Sit down and eat normally." That's what our strategy is about.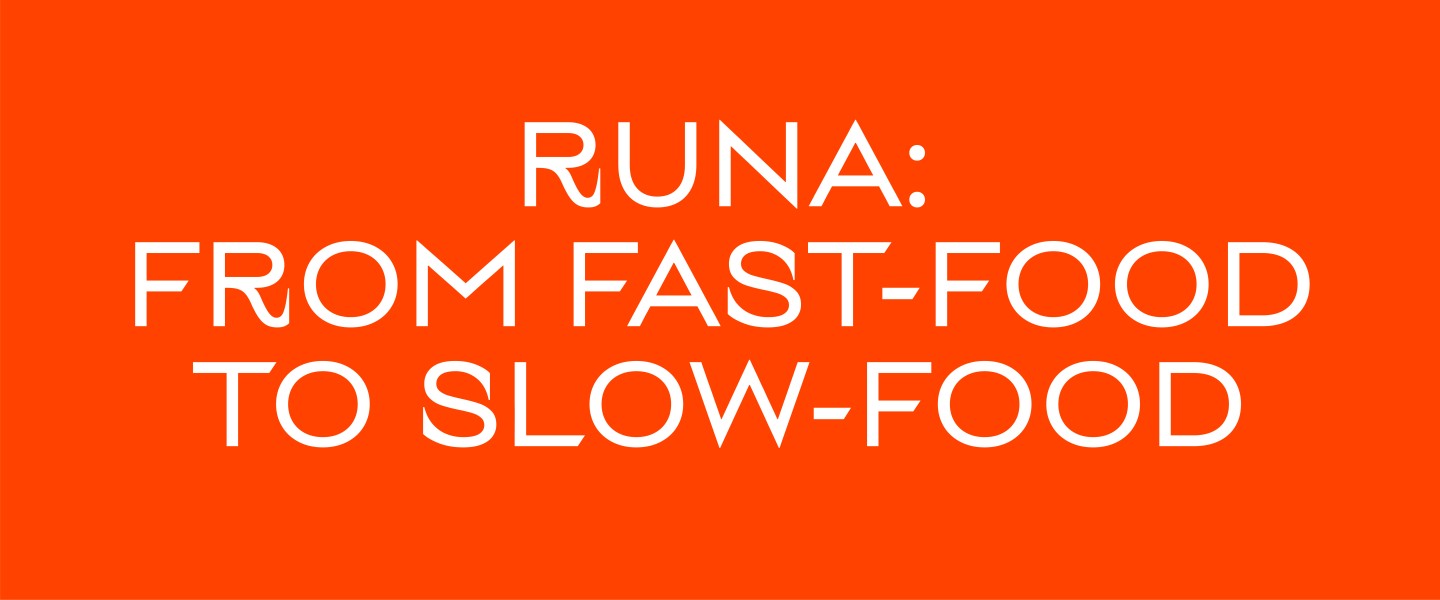 Runa says: put things off, you'll get there in time. Sit down and eat normally! A jar of sauce on the table turns a snack on the run, between work hauls, into a conscious meal. Exhale, put your phone away, open a jar of Runa, add as much sauce as you want to your favorite munchie, and enjoy the moment.
We came up with a funny ad not about the sauce but about people — the people who just stopped the hustle. And not to save the world or any other spiritual goal, but to taste homemade dumplings. You don't save the world on an empty stomach.
To make the experience more coherent, we combined the entire campaign with the constructor: "There is time for the important, and there is time to sit down and have a proper meal". It easily adapts to any channel and speaks directly to the fact that it's time to leave everything on pause, everything but food.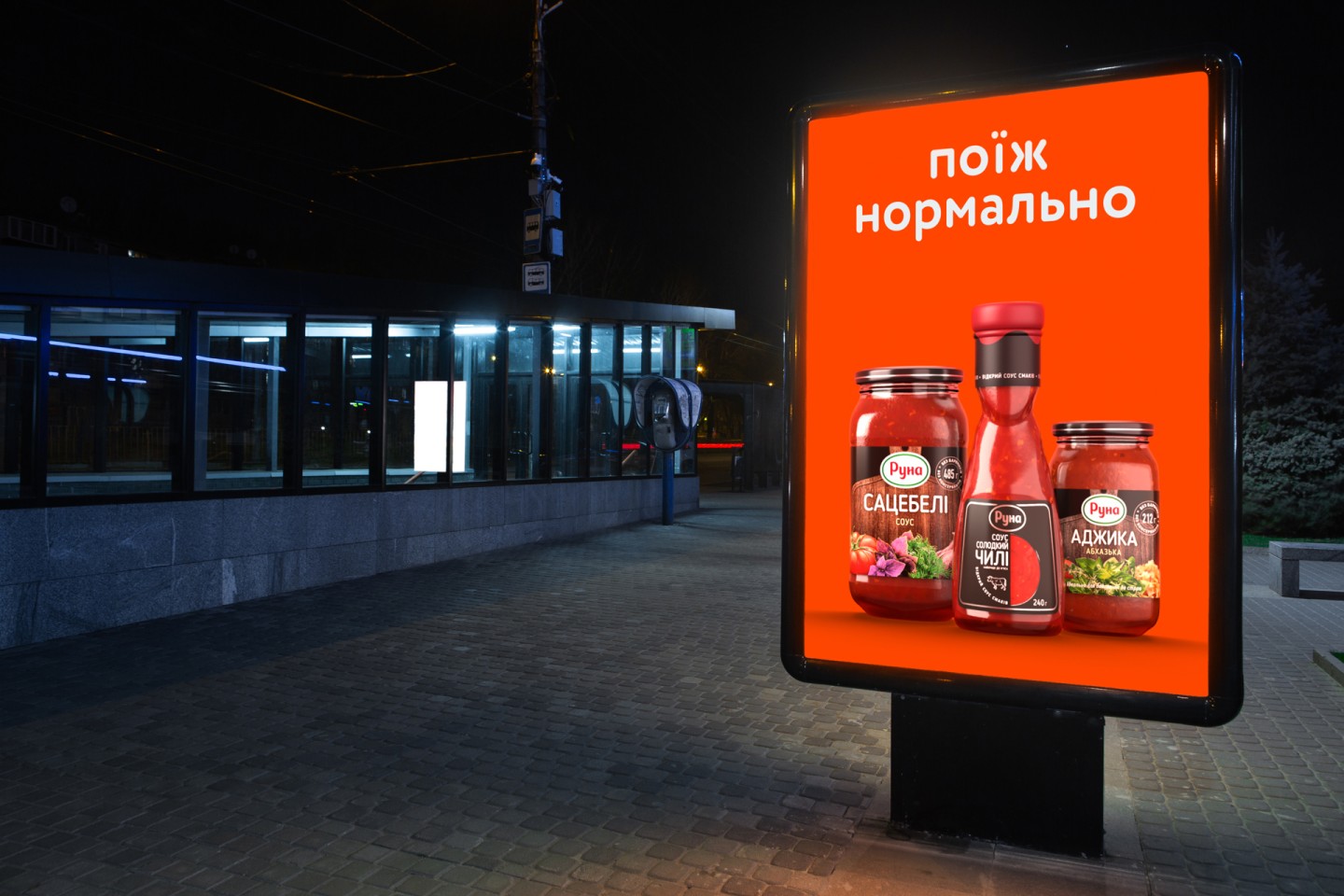 Sauce commercials are usually glossy characters tasting (not eating, exactly tasting) dishes you might have only seen on Instagram feed or on a fancy French plate.
By contrast, the people in Runa's commercials eat as they do in real life: with joy and satisfaction and not embarrassed to lick their fingers while doing so.

Sergey Shevtsov, director:
"We were aiming at a trashy Ukrainian aesthetic in this project because we didn't want to go to the ad houses and make the hundredth commercial in a conditionally common Ikea styled interior. Look at our barbershop. It is an actual location in Troyeshchina (an infamous district of Kyiv), it's called "Irina 97", and almost everything you see in the frame, we picked there on the spot.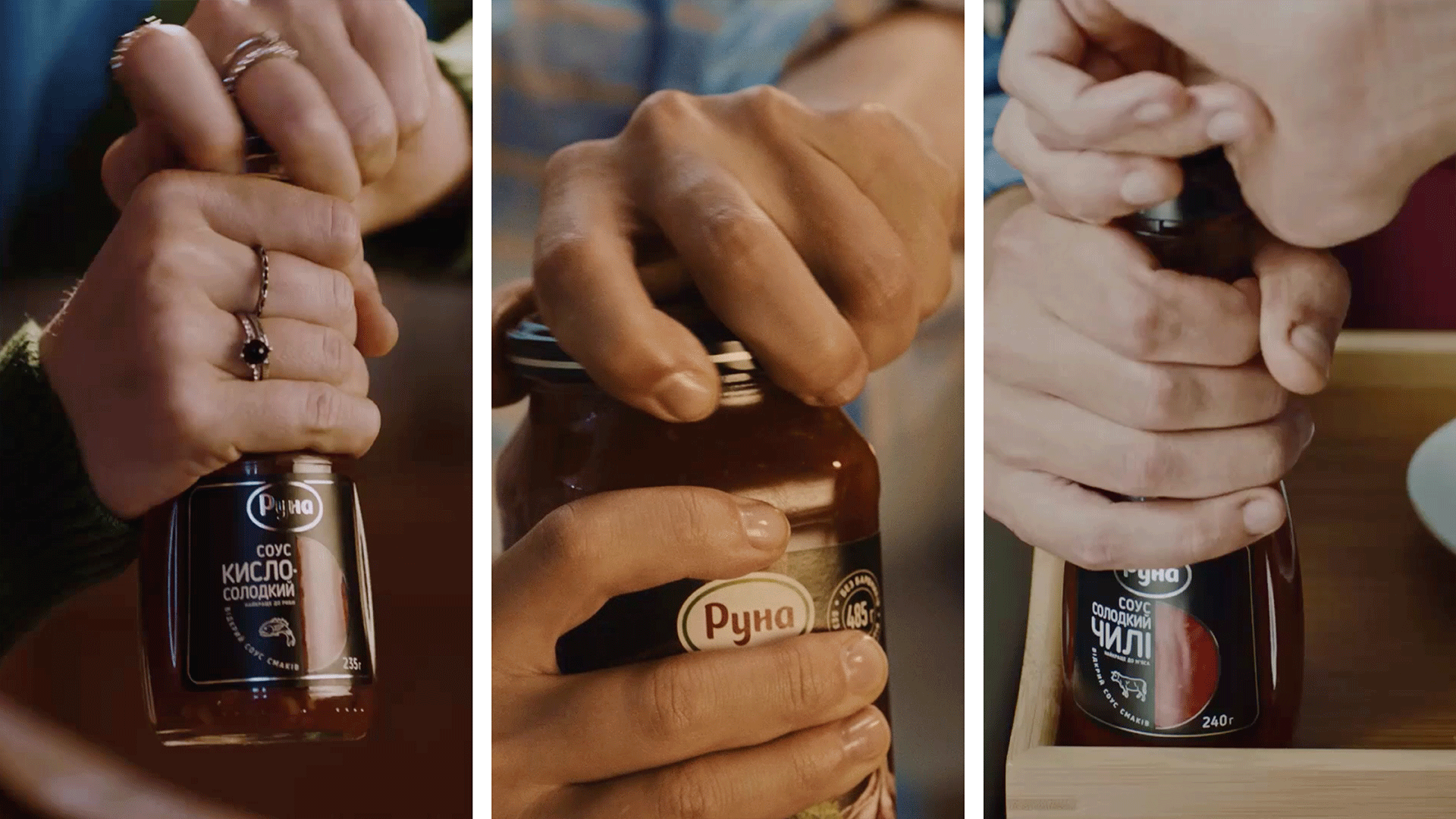 We noticed that the cans and bottles Runa open with a distinctive "pop" sound. And we thought it would be great to use it in a commercial. "Pop!" works like a recess bell for schoolchildren. If you hear the pop of sauce's can, it's time to put things aside and eat normally.
On the one hand, we wanted to show a lot of products in the frame. But, on the other hand - there was no desire to do it in a classical "ad way", so that the characters, for any reason or without reaching for jars of sauce, as Clint Eastwood for his beloved Smith & Wesson.
So we came up with a legitimate way for us to show the sauce: a 15-second packshot. In the best Marvel tradition, the packshot doesn't brashly poke in the eye but peacefully accompanies the plot, which continues even after the credits.

Oleg Khodachuk, a shareholder of Runa:
"Over the past few years, we've been working with different marketing agencies. All at first tried to impress and finish their work quickly and "to sign the acts". It made me very angry and devastated inside. So when we were looking for a new agency, I gave myself the word to choose those who would trigger and inspire me. At first sight, I was impressed by the people from Madcats.
The bold, evocative solutions discouraged me a bit. They didn't seem to be the kind of agency that wants to please the client and say only what they want to hear. And when the guys said that "You, at Runa, are the underdogs of the sauce market in Ukraine, and we want to make you the first to bend everyone over it," I realized - this is our partner-company for a long time :) For the first time in my history with agencies, I felt that I paid much less than I got from them."

Credits
Commander: Alexander Solonko
Strategist: Artur Redzynets
CD: Gleb Petrov
Copywriters: Roman Pyskun, Anton Solonko
Design-director: Vik Vatamaniuk
Designers: Olesia Bahrii, Alexandra Romanenko, Veronika Syniavska
Motion designer: Egor Prijma
Production: No Stars
Director: Serhii Shevtsov
DOP:Dmytro Nedria
1AD: Serhii Korniyenko
Executive Producer: Daria Volgina
Line Producer: Pavlo Diachenko
Producer Assistant: Valeria Havrylova
Production Manager: Mykola Poluden
Casting: Easy casting
Art Dep: Olena Yemelianova
Stylist: Dina Golubieva
MUA: Liliya Dzygovska
Edit: Viktor Lisin
Post production: Andrii Altukhov, Volodymyr Bilous
Sound design: BakerStreet
Colorist: Maryna Tkachenko
Thanks to Oleg Khodachuk, Oleksandr Shamray and Iryna Dzhulinska for participating in the project.